About Avery
At Avery Partners we believe that providing passionate care is our sole reason of existence. We believe that better outcomes for our patients are realized through hard work and sound business practices. We believe that sound operational principles and financial discipline enable our care givers to focus on providing care without worrying about resources. We believe we are part of the "Solution" to our "Nation's" healthcare challenge. We are the new era of care givers caring for the ones you love…
Avery Healthcare Business Services

Avery Partners provides a suite of business services specifically aligned with the unique requirements of Healthcare providers. We have national capabilities and years of experience solving problems for our clients. We can reduce cost, eliminate hassle, increase service levels and add value to each area of your business. Whether you need us to take on a project, outsource completely or just add the right people to your team, our focus is always on helping you reach your goals.
Avery Technology
We've found that delivering a combination of "On Demand" IT Consulting, Staff Augmentation and Outsourcing services enables clients to "Control Cost' and get faster quality delivery of engagements. Avery Partners consultants are full time with the company and have reference-able track records.
Avery Rehabilitation
Avery Partners is a full life-cycle Healthcare Consulting firm. Avery Rehabilitation focuses the placement and coordination of Physical Therapists, Occupational Therapist and Speech Language Pathology Professionals.
Avery Dental
DDS Staffing continues to be the leader in dental staffing! We are servicing the states of Georgia and Florida. Our commitment to excellence and our passion for the industry is evident in the quality of service we provide. From administrative dental professionals to dentists, our extensive network allows us to meet any staffing needs.
Avery Careers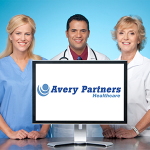 We offer recruitment services through your growth cycle, job service support to displaced talent, and consulting and staffing evaluation and recommendations for restructuring your employees during any phase of your organization's transition. We believe it is important to constantly be evaluating your employee's goals, as well as their satisfaction and long term career objectives, to ensure that they are aligned with those of your organization.